Referring Physician's Frequently Asked Questions (FAQ)
3. What other information would be helpful to the physical therapist on the prescription?
4. Do you need operative, MRI, or X-ray reports?
5. How do I know what frequency and duration to write on my patient's prescription?
6. How will I know how my patient is progressing?
7. If I am not sure that you can help my patient, can I refer for a consultation?
8. How do I know what kind of treatment I should suggest?
9. How early after a diagnosis is made should I send a patient for physical therapy?
11. I see on your website that you have more than on therapist. Will my patient be able to schedule an appointment with a therapist of their choosing or does your office control whom my patient sees?
12. Will my patient receive a home exercise program to follow when they are not in therapy?
13. I have decided to try Dexamethasone for Iontophoresis for my patient. How should the prescription be filled out?
1. Depending on the time of day that you call, we can usually get new patients in the same day. If you call later in the day we can always get you an appointment within 24 hours during weekdays! Please feel free to utilize our "online" Appointment Request form available 24 hours a day!
2. Referring a patient to physical therapy is easy. Most physicians simply give the patient a prescription with the diagnosis and "evaluate and treat for physical therapy" written on it. Some insurances require the primary care doctor to complete an electronic referral before therapy can begin. If an electronic referral is required your patient should contact us directly to see if we have obtained your electronic referral before their first visit.
3. Other than a clinical diagnosis if known, the other information that would be helpful is:
Weight bearing restrictions for post surgical and post fracture patients.

Fracture status

ROM restrictions for post surgical patients

Degrees of resistance allowed for post surgical patients (e.g.: active, passive or resistive)

Expected limits on ROM if any, for a final outcome on a post surgical patient.

Type of surgical procedure and/or type of internal fixation used.

Specific requests for splints or braces.
4. We work very closely with your patients to allow gradual stress on any surgical sites. Operative reports, X-rays and/or MRI reports are always helpful, but are not mandatory.
5. In general, most patients are seen three times per week initially with decreasing frequency as tolerated. In most cases it is best to leave specific duration and frequency up to the physical therapist. This way the patient isn't set up with false expectations and the therapist has the leeway to:
See the patient on a frequent basis for an acute or severe problem.

Decrease treatment frequency as the patient progresses.

Spread out visits if less frequent visits are needed, either clinically and/or due to insurance authorizations.
6. The therapist will send you a full written initial evaluation report on your patient after your patient's first visit. Initial evaluations will include a history, objective findings, an assessment, the type of treatment, the recommended goals, and treatment frequency.
The patient will be periodically re-evaluated and progress reports will be sent to your office. The frequency of the progress reports depend upon the chronicity and the nature of the injury or condition, but are generally sent every four weeks. Progress Reports will also be sent prior to any follow-up visit you have scheduled with your patient. If you would like reports or updates more frequently and/or verbally, please give us a call or write it on your referral.
In general, our reports are faxed so that they arrive on a timely basis.
7. Absolutely. Simply tell your patient that you would like them to be seen by a physical therapist to see if we can be helpful. We will perform an initial evaluation and call you or send a report, whichever you prefer.
Also, please feel free to call us first for general information and treatment options for an individual patient or for more general information on various treatments for specific diagnosis.
8. Because of our experience and level of expertise, you are not required to make specific requests when referring a patient. You may explain to your patient that the physical therapist will evaluate them and identify any physical therapy problems such as pain, weakness, loss of motion, loss of function, gait problems, etc.
Be assured that the therapist will explain all aspects of treatment to your patient and will send you a report outlining their care.
As always, any specific orders you make will be incorporated in the patient's program.
9. Your patient should be see as soon as possible. The earlier a patient is seen, the quicker their recovery and the shorter the overall duration of care. Treatment will be modified according to the stage of injury (i.e.: acute, sub-acute, chronic) and the patient's signs and symptoms. Therefore, "too early" is generally not a problem.
10. We are conveniently located at 155 Raymond Road. We are just off the lobby in the Buckingham Place building. Our location is convenient for residents of South Brunswick, Princeton, West Windsor, Plainsboro, Kingston, Montgomery and Franklin Park. Please see our locations page for directions.
11. Our patients have told us that at many other therapy practices patients are not permitted to schedule with a specific therapist. We have been told that patients can only make an appointments for a specific time. Upon showing up for that appointment the patient is told who will be treating them that day. This does not happen at The Rehabilitation Center! We understand and encourage the relationship that is formed between the therapist and patient. All of our patients may schedule specifically with one therapist and if the patient chooses may stay with one therapist. However, we do have many patients who choose to see more than one therapist and are extremely happy with the care given by all our professionals! We allow our patients to make all scheduling decisions!
12. Yes, all of our patients will be given a home exercise program. Our office utilizes a state of the art exercise computer program that shows a before photo, a middle photo, and an end photo of each exercise. Below is an example of our easy to follow exercise program that will be tailored specifically to your injury or condition. One of the most important parts of your patient's recovery process is their home exercise program. This may include stretching, strengthening, instructions on proper ways of performing movements, and modifications of lifestyle. Compliance with their home exercise program will greatly enhance their response to therapy, and is critical to their long term success.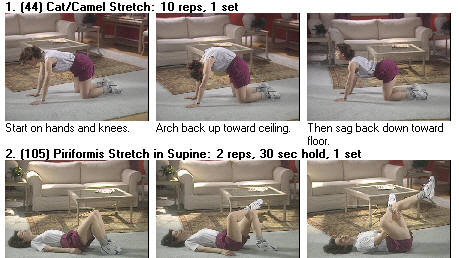 13. Prescriptions for Dexamethasone for Iontophoresis should be written on a script the following way:
Dexamethasone Sodium Phosphate Injection for Iontophoresis
4 mg/ml, 30 mL, with no refills.
Or you may use our online Iontophoresis prescription by clicking here.