We treat all types of injuries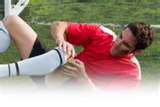 The Rehabilitation Center takes pride in the fact that we treat all types of injuries, conditions, and illnesses. We offer expert Physical Therapy to every patient that comes through our door. Give us a call and you can speak to a therapist directly with any questions concerning treatment. Click here to see the results of our online survey!
Professional Exercise Equipment!

We house a suite of state of the art Biodex rehabilitation equipment that exceeds professional standards, including a Gait Trainer, a Cyclocentric semi-recumbent bike, upper body exerciser and upright bike. We also have a "State of the Art" ultrasound / electrical stimulation machine called the Genisus from Chattanooga.